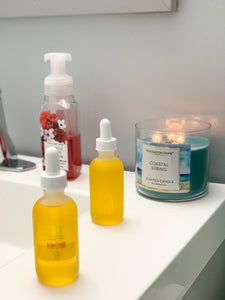 Ingredients: Rose-hip, Almond, Grape-seed,Avocado, and Vitamin-E Oil. 
Moisturizes, Improves acne, Reduces Inflammation, Reduces Hyperpigmentation, Skin brighting properties 
This product is 1oz in size.
Facial oils are a great alternative for creams and lotions. Made of all natural oils, they are lightweight and absorbing. 
A good facial oil should be in everyones skin routine. Oils house multiple active ingredients that help with dry skin, acne and skin brightening properties. They should be applied before you apply your moisturizer.